Welcome to the Controlled Chemical Reactions group!
What exactly happens during a chemical reaction? Our aim is to completely understand and, ultimately, fully control chemical reactions on the molecular level. We therefore investigate reactive collisions, in which chemical bonds are broken and new bonds are formed, between individual molecules in the gas phase. We make use of advanced experimental techniques to study these reactions in extremely high detail.
Our group is part of the Spectroscopy of Cold Molecules department within the Institute for Molecules and Materials of the Radboud University.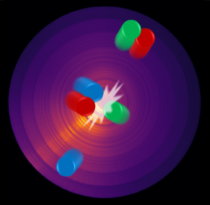 ---
Latest news
7 November: Barend Vonk joins us for his MSc internship. Welcome!
1 October: We participated in the Open House of the Faculty for the general public! Our department prepared demonstration experiments and Jolijn gave many lab tours.
29 June: Jolijn has been awarded an NWO Open Competition Domain Science-M Grant to perform a research project entitled 'Deciphering molecular collisions: from molecular billiards to chemical reactions'! A news item on the IMM website can be found here.