Welcome to the Controlled Chemical Reactions group!
What exactly happens during a chemical reaction? Our aim is to completely understand and, ultimately, fully control chemical reactions on the molecular level. We therefore investigate reactive collisions, in which chemical bonds are broken and new bonds are formed, between individual molecules in the gas phase. We make use of advanced experimental techniques to study these reactions in extremely high detail.
Our group is part of the Spectroscopy of Cold Molecules department within the Institute for Molecules and Materials of the Radboud University.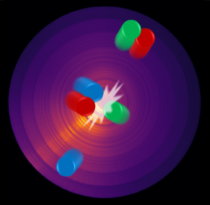 ---
Latest news
1 September: Saskia Pieters joins us for her PhD. Welcome!
7 July: In the last months, Alexandra presented our work at the Physical and Chemical Processes of Astrophysical Interest workshop in Corsica, and Jolijn presented at the Lorentz workshop New directions in cold and ultracold chemistry in Leiden, the European Group on Atomic Systems (EGAS) 54 conference in Strasbourg, and the International Symposium on Molecular Beams (ISMB) conference in Crete. It was exciting to share our latest results with the community!
16 May: Jolijn visited the Stedelijk Gymnasium in Nijmegen to give a lecture about our research to high school students. It was great to see many interested students and to answer all their questions!
18 April: Jolijn visited the Sint Ursula school in Horn to give a lecture about our research to high school students. The students also performed a diffraction experiment to determine the resolution of their phones. It was nice to see so many enthusiastic students!